EDIT MAIN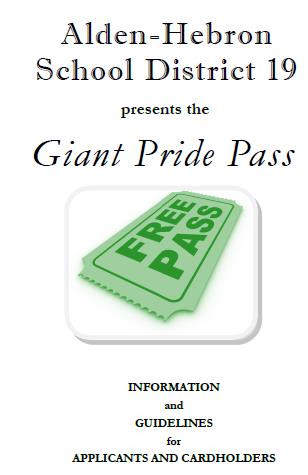 Giant Pride Pass Information (Click here for Giant Pride application and information brochure)
---
---
Senior Share Program
Senior Share is a program which allows residents age 62 and over who live in our school district, to share their experience, expertise, and talents with students and staff. As an incentive Alden-Hebron District 19 will reimburse the seniors for their time. The mutual goals of providing services to the children and allowing seniors to share their knowledge and experiences are enhanced by providing seniors with property tax relief.
What can we do working together?
We can:
Allow students to benefit from additional resources available in our community.
Provide seniors the opportunity to experience a view of the education process in our community.
Allow seniors a means of formally contributing to the community.
Who can participate?
Seniors 62 and over who are residents of Alden-Hebron School District 19, including apartment dwellers, homeowners, and those individuals who are currently residing with their families, are eligible. Priority will be given to individuals who are retired from active employment.
Where will senior sharers work?
Senior sharers will work in the following areas of the school:
Assisting in Classrooms
Assisting in Learning Centers/libraries
Computer Aides
Clerical/Reception
Cafeteria/Recess
Concession Stand
How is compensation made?
The hourly rate is based upon $10.00 per hour. The maximum amount an individual may earn cannot exceed the taxes owed to Alden-Hebron School District 19 as listed on the second installment of the property tax bill or up to $500.00.
It is important to note that benefits, insurance, and other employment benefits will not be available. You will receive a school district check by June 15th as compensation for your efforts.
Questions?
If you are interested in applying or have questions about the Senior Share Program, please contact Deanna VanderPal, assistant to the superintendent, at 815-648-1603. There will be several additional pieces of information that will need to be obtained including an employment verification form, criminal background check, a child abuse/neglect form, evidence of good health, and TB testing within 90 days (which will be at no cost to you provided you have your physical and TB test at Northwestern Centegra Occupational Health.)